Rafflesia arnoldii Robert Brown
Species named after Dr. Joseph Arnold, a physician who explored Sumatra with Sir Stamford Raffles in the early 1800s.
Synonyms: R. titan Jack
---
The following photos were taken by Mr. Davis who formerly maintained a web site called SumatraFlora - On-Line Nursery. This site is no longer available, but at the time he provided a number of photographs of interesting plants from Sumatra, including Rafflesia arnoldii. The nine photos below were taken in the Palupu Reserve near Bukittinggi, Indonesia.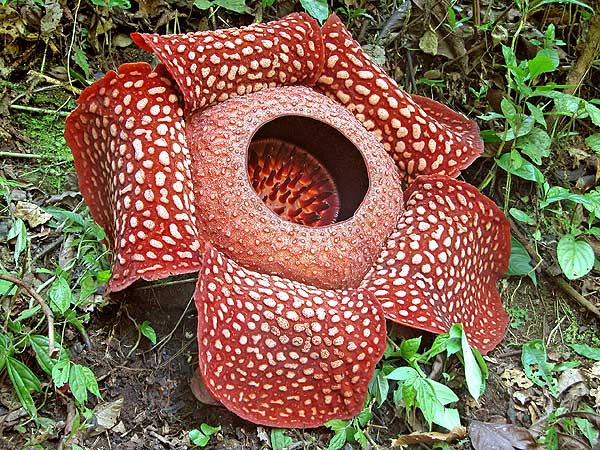 Fully open flower of

Rafflesia arnoldii

.



| | |
| --- | --- |
| Flower bud, in a later stage of opening. | Flower bud, with scales still unexpanded. |
| Fully open flower with Troy Davis included for scale! | Closer view of the flower showing the diaphragm surrounding the floral opening. |
| Close-up of the perigone lobe showing the pattern. | Top view of the disk showing the processes. |
| Side view of the disk from a dissected flower. | View from inside a Rafflesia flower. |
| | |
| --- | --- |
| Trond Schumacher (University of Oslo) and R. arnoldii. | Photograph by Harry Wiriadinata (email: herbogor@indo.net.id) and Suwito Alam from article in "Voice of Nature" (ISSN No 0216-4177), Vol.84, Aug. 1990, page14. |
| The photo below was taken by Alwin Gentry ca. 1956 on Mt. Sago at the L Hulaban Tea Estate, Sumatra. | Close-up view of two Rafflesia anthers dehiscing the pollen in a sticky fluid. Mt. Sago, Sumatra. Photo by E. S. Ross July 23, 1983. |
---
SIUC / College of Science / Parasitic Plant Connection / Rafflesiaceae
URL: http://www.parasiticplants.siu.edu/Rafflesiaceae/Raff.arn.page.html
Last updated: 29-Oct-10 / dln