| | |
| --- | --- |
| | Balanophoraceae Rich. |
Distribution Map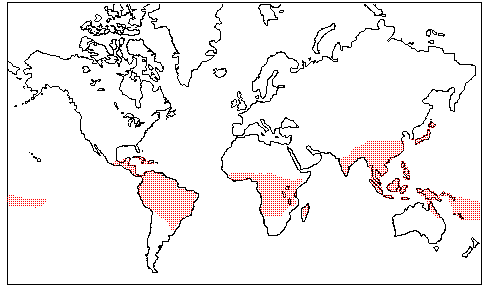 Photographs
Balanophora
For a list of synonyms of Balanophora according to Hansen (1972, 1999), click HERE for the pdf file.
For a key to species of Balanophora according to Hansen (1972), click HERE for the pdf file.
Chlamydophytum
Chlamydophytum aphyllum
Corynaea
Corynaea crassa
Ditepalanthus
Ditepalanthus malagasicus

Photo. Madagascar: Hiaraka. Photo by Bogner 28 Jan., 1969 [Bogner 269]. Slide no. 6477 archived at Kew (as Rhopalocnemis malagasica).
Illustration. By Roland Eberwein
Exorhopala
Morphological features indicate this genus should be lumped into

Helosis. Molecular data supporting this are lacking. See Eberwein and Weber 2004, Bot. J. Linn. Soc. 146: 513-517.
Exorhopala ruficeps
Helosis
Helosis cayennensis
Langsdorffia
Langsdorffia heterotepala




Photos. This species, named in 2011, is found only in the cloud forests of Parque Nacional do Itatiaia, in Minas Gerais near the border with Rio de Janeiro. It differs from L. hypogaea, the only other New World species, in features of the male and female flowers and inflorescence shape. See: Cardoso et al. 2011. A new species and a key for

Langsdorffia

(Balanophoraceae) Systematic Botany 36: 424-427. Links goes to PhytoImages.


Langsdorffia hypogaea
Langsdorffia malagasica

Langsdorffia papuana
Lathrophytum
Lathrophytum peckoltii
Lophophytum
Ombrophytum
Rhopalocnemis
Rhopalocnemis phalloides
Sarcophyte
Sarcophyte sanguinea
Scybalium
Scybalium depressum

Photos. The only known photographs of this species! Remarkably, the plant is attached to a liana 30-50 cm above ground level. See a similar phenomenon in Balanophora fungosa ssp. indica var. indica (above, photos by

Miguel Porto Bertolo

). Parque Nacional Sangay, Ecuador. Photos by A. J. Pérez Castañeda. Link goes to PhytoImages.

Illustration by Roland Eberwein.

Scybalium fungiforme
Scybalium glaziovii
Scybalium jamaicense
Thonningia
Thonningia sanguinea
---
Phylogeny
1. Placement of Balanophoraceae among Flowering Plants
Determining the closest photosynthetic relatives of Balanophoraceae has long intrigued botanists. Recent molecular phylogenetic analyses point toward Santalales, the sandalwood order. See paper by Nickrent et al. (2005) in BMC Evolutionary Biology. For the full text online version, go HERE. The relationship with Santalales has also been recovered using B class floral homeotic genes. See abstract by Su and Hu (2008) HERE.
2. New Molecular Data: Balanophoraceae is not one family!
The most comprehensive (in terms of taxon sampling and genes) molecular analysis of Santalales to date was reported in Su et al. (2015) - pdf file HERE. From previous molecular phylogenetic work in the Nickrent lab, it was known that the three "Gondwanan" genera,
Dactylanthus

,

Hachettea

and

Mystropetalon

formed a clade and the remaining genera formed another clade. When these were analyzed together with all available genera in Santalales, "Balanophoraceae" was not monophyletic. Tests showed that placing these clades together was not statistically supported. You can visit the Mystropetalaceae page HERE.

---
Last updated: